A very brief biography of Gilbert Emery
Gilbert Emery, c.1897

Image (detail) courtesy of an Emery family descendant

Doril Warren and Gilbert Emery

Image (detail) courtesy of the National Film and Sound Archive of Australia1
Although given the name "Charles Albert Hawkins EMERY" by his parents, at some date he chose to use the forename "Gilbert". During his life he was variously known as "Gilbert Hawkins EMERY", "Gilbert Warren EMERY", "Gilbert WARREN-EMERY", "Gilbert Charles EMERY", and simply "Gilbert EMERY". This last name is the same as that adopted by an American screen actor (and often makes it difficult to determine who was who in reports in newspapers, etc).
His personal life appears to have been somewhat troubled (possibly putting it mildly): there were obviously problems with getting enough money to support himself and his wife and child(ren); he suffered from alcoholism; and, at least according to his wife, he was frequently physically violent towards her.
1880-06-28: he was born at Flinders St, Melbourne, Victoria, Australia, and named "Charles Albert Hawkins EMERY". He was the fifth child of the 6 sons and 3 daughters2 of William Kidder EMERY and Jemima Lyle HAWKINS, who were married on 1871-04-08.
(1894: birth of Doris [sic] Elphinstone WARREN3 at New Zealand.)
1904-05-12: the ship Miltiades arrived at Sydney from London, with a member of the crew working as a general servant named "Gilbert H Emery", aged 23 and born at Melbourne. Was this him?
1906-09-22: first known appearance on stage, at the King's Theatre, Fremantle, Western Australia.
1909-05: was showing an interest in Doril WARREN (when she was 15 years old and he was 29).
1910: toured with Philip Lytton's dramatic company presenting the play The Fatal Wedding; Raymond Longford and Lottie Lyell were also on this tour.
1911: first screen appearance in A Tale of the Australian Bush as the chief of police.
1911 – 1912: toured Australia with George Marlow's Dramatic Company.
1912 – 1913: with the George Willoughby English Comedy Company.
1914-01-21: he married Doril Elphinstone WARREN at St Mary's Cathedral, Parnell, Auckland, New Zealand. He used the name "Gilbert Hawkins EMERY".
1914-12-24: their daughter June Knighton Warren EMERY was born at Darlinghurst, Sydney.
1915: he was touring manager for the Maori Opera Company's presentation of the opera Hinemoa throughout New Zealand.
1919: appeared in the film Desert Gold.
1919: played the role of the character Ginger Mick in Raymond Longford's and Lottie Lyell's film The Sentimental Bloke.
1919: acted in the film Struck Oil.
1919: appeared in the film The Face at the Window as the bank caretaker.
1919-10: Doril and her "friend" Alfred Morley Ellis took proceedings against Gilbert for alleged assault: reported in Truth (Brisbane). The case was dismissed.
1920: again played Ginger Mick in Longford's and Lyell's film Ginger Mick.
1921: appeared in the film Rudd's New Selection as Mr. Dandelion.
1921: acted the part of Smithy in the film While the Billy Boils.
1921-06-23: he was given a testimonial benefit at the King's Hall, Sydney prior to his (presumed) departure for the USA. He was at this time using the name "Gilbert Warren-Emery", the "Warren" being, presumably, his wife's surname. He does not appear to have left Australia at this time (but if he did he did not go to the USA).
1921-10: a warrant was issued for his arrest for not making court-ordered support payments to his wife and child. The description of him noted that he was an actor and addicted to drink. He was arrested the following month by two constables of the Gundagai Police, but the charge was withdrawn at the request of his wife.
1922: appeared in the film A Rough Passage as Jiggy Javitts.
1922: appeared in the film A Daughter of Australia as Jimmy, a digger.
1923-04: two warrants were issued for his arrest, again for not making support payments to his wife and daughter.
1923: their son Ross A. W. EMERY died at Sydney. (I do not yet know when he was born.)
1923-12: Doril petitioned for divorce, on the grounds of habitual drunkenness and cruelty: reported in the Evening News (Sydney). Gilbert was reported to have been in Goulburn Gaol (and was not represented at the divorce proceedings). A decree nisi was granted. The divorce was made absolute in 1924-07.
1924-10: yet again a warrant was issued for his arrest for not making support payments to his [ex-]wife and (this time) children.
He went to New Zealand, possibly to avoid arrest.
1924-11-25: he departed from Auckland for Vancouver, British Columbia, Canada on board the steamer R.M.S. Makura, and was to be the manager for the concert tour of the Cherniavsky trio. He stated that he was going to Los Angeles, California and intended to become a permanent citizen of the United States of America.
1929: appeared (uncredited) as a soap-box orator in Alfred E. Green's film Disraeli.
1934-12-24: Gilbert Emery died in hospital at Los Angeles, California.
He was buried at plot no. 541 south side in Garden of the Exodus, Hollywood Forever Cemetery, Hollywood. On his gravestone is "HUBERT GILBERT WARREN EMERY" and his life dates are given as "1882 – 1934", so whoever provided this information was not very familiar with his life.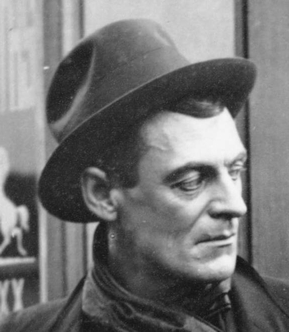 Gilbert Emery as "Ginger Mick" in The Sentimental Bloke
Image (detail) courtesy of the National Film and Sound Archive of Australia4
References and notes
There is obviously much more to find out about Gilbert Emery; in particular his stage appearances should be researched, as well as his activities in New Zealand and the United States, and, reportedly, in Africa and England.
[1] NFSA: title number 359171: [EMERY, GILBERT : DOCUMENTATION] : [EMERY, GILBERT : GILBERT EMERY SEATED WITH WIFE, ACTRESS DORIL WARREN]
[2] The other children are:
Edith Mary Isabel EMERY, born in 1872; married Lot Ebenezer SEELEY in 1899; died in 1933.
Norman William Kidder EMERY, born in 1873; died in 1921.
Leslie Lyle EMERY, born in 1876; married Bertha Mermuin MECKISON in 1907; died in 1943.
Percy Edgar EMERY, born in 1878; married Maud Marion Brownlea McLELLAN in 1914; died in 1944.
Herbert Stuart EMERY, born in 1883; married Maude Vera WYND in 1918; died in 1942.
Gertrude May EMERY, born in 1885; married William Alexander KIRKWOOD in 1921; died in 1961.
Wallace Harold Benjamin EMERY, born in 1888; married Hilda WHITE in 1919; died on 1937-08-21.
Dora Jean EMERY, born in 1890; married Alfred CROOK in 1918; died in 1966.
[3] Her first name is "Doris" for her birth and marriage registrations, but almost everywhere else it is "Doril". Her parents were Henry Alexander WARREN and Rosie Elphinstone BELL. Following her divorce from Gilbert Emery, she kept her married surname, and continued to live in Sydney. She died in hospital on 1975-05-06.
[4] NFSA: title number 348006: THE SENTIMENTAL BLOKE : ARTHUR TAUCHERT (THE BLOKE) STANDING IN FRONT OF A PUB DOORWAY WITH GILBERT EMERY (GINGER MICK) BOTH WITH HANDS IN THEIR POCKETS