Peter H. Schmedding
CHILD DEVELOPMENT PROJECTS
Consultation and Activities: 244 Dryandra Street, O'Connor ACT
Private Address: 1 Yarrow Place, O'Connor 2602
Phone: (02) 6248 9036 - International: +61 2 62489036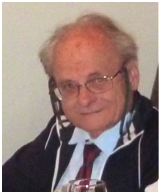 General:

I was born on the 18th October 1925 in Germany. Here I spent the first 29 years of my life. My studies in music came to an end by conscription in 1943. I served as a radio operator at the Eastern front. After Germany's defeat in 1945 I emerged homeless and penniless, but physically unscathed from the ravages of World War Two. In 1954 I migrated to Australia and in due course became an Australian Citizen.

I was employed by the Australian Broadcasting Commission: In the 1950s as the sound engineer of the National Childrenļs Hour (Argonautļs team) and later as a technical producer in ABC Television. After early retirement from the ABC in 1980, for another 25 years I served as an educator and mentor for the enrichment of mostly upper primary grade children. Now in my advancing years and mostly retired from active service, much of my time is spent in writing from the experiences of a long and adventurous life .

Interests:

My lifelong fascination with the human mind began in an intellectually and emotionally deprived childhood. As a young man I was trained by Psychologist Leon Hardt, who was a pupil of the noted pioneer in clinical hypnotherapy, Emile CouŇ. As no field is riddled with controversies as that of the human mind, to find a common core, later in life I studied a variety of different methodologies for mental health, psychotherapy and the emergence of the personality. Apart from hobbies like photography, music and composition, I also had occupied myself in exotic pursuits such as brain wave research and making audible subsonic brain rhythms and replicating Cleve Backster's man-to-plant communications.

Qualifications:
.
I am a certified Life Coach with qualifications in technical production, Radio and Television. (Australian Broadcasting Tribunal, 1963) I received Practitioner Certificates in Neuro-Linguistic Programming, (Australia and USA, 1982) Diplomas in Clinical Hypnotherapy (Australian School of Professional Hypnotherapy,1985) and in Writing. (The Narrabeen Writing School,1990) As a public speaker I was awarded the "Distinguished Toastmasters" Certificate', the (quote:) "...highest communications recognition our organisation offers." (Toastmasters International, USA - 1997)

Past associations:
.
They include the Sydney Theosophical Society, the Australian Society for NLP Practitioners; the Australian Association of Sex Educators, Researchers and Therapists, Toastmasters International, Canberra's Schools Volunteer Program incorporated.

Activities:
.
Beginning in the early 1970s, for eight years I was engaged as an accredited telephone counsellor at Lifeline Canberra. After its inception around 1981, I became an active member of the then ACT Association for Gifted and Talented Children and their president for several years. Within that organisation I have been conducting enrichment workshops and extension courses. High on the list were science and technology, social and personality development. Furthermore, over the years I worked in various schools in Canberra as a speaker on pupil-free days, and for the children teaching electronics, leadership and public speaking. I have presented papers in seminars and at conferences locally and overseas and produced sound projects and articles on Child Development and introductions to Technology.

I established Child Development Projects as a registered business in 1983. Now it is effectively a non-for-profit initiative that continues to offer assistance for parents and enrichment for children. For interested groups I am available as a guest speaker on a range of related topics.

A Police Clearance Certificate to work with children has been issued on 15 March 2007. This and/or any of numerous references I'd be happy to make available to anyone who requests them. My autobiography part one 'ESCAPE « GROWING UP IN NAZI GERMANY' is available from Amazon. So is another book: 'PEDOPHILES AND YOUR CHILD'. My latest book: REVELATIONS FROM OUTSIDE THE BOX has been published in May 2015.


Home page | Short Speeches | About Music |
* * *